Pet sitting in Port St Lucie, Fl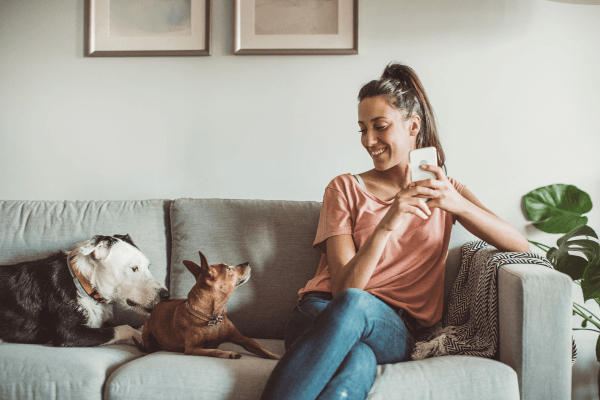 Do you have a pet that needs care, love and attention while you are on a trip or working long days?
PSL Pet Sitters offer an in-home professional pet sitting service in Port St Lucie, Fl. We have established a team of highly qualified and dedicated professional pet caregivers who are happy to provide care for your beloved pets while you are away. We will come to your house and stay with your pets as long as you would like to keep them company and attend to their every need. We will play with them, provide food and fresh water, take them for a walk and make them feel loved and special while they get to stay in their accustomed environment. Also, having someone you can trust come to your house while you are away adds to the security against potential intruders.
Our standards have been set to offer your dog or cat the best care available in your local area to ensure that yours and your pet's needs and expectations are met from our first meeting, throughout our consequent visits and into the years of services for you and special little friends. We believe that making a lasting relationship is very important for your peace of mind and your pets comfort so that they can enjoy our visits and even look forward to it each time you are away.
What do our pet sitting services include?
First, we will schedule an initial meet and greet session which is free of charge and lasts approximately 30 minutes. It will allow us to get to know you and you will get to know your pet's sitter.
We will discuss in detail your normal routine and expectations, any special requirements, address questions and concerns you might have, discuss matters such as where you keep things and how your pets like things done and anything else needed in order to provide the highest quality service for you and your pets. If your pets have any medical conditions, special needs, or behavioral issues or habits that can affect their health, it's important that you provide us with as much information as possible in that regard.
We will ask you to fill out our information packet and pick up the house key.
Next, an insured dog sitter will come to your home on the scheduled day(s) and time(s) to take care of your pets' mealtime, fresh water, medication, and playtime/attention needs as well as any other special care they might require. We will make sure that your pets are safe, comfortable, entertained, and overall well attended. You will get regular updates with photos via email or text messages.
Our service includes but is not limited to providing company, serving food and fresh water, monitoring health, walking, exercising, changing cat litter, administering medications, and sending progress reports. In addition, many complimentary services for your home are offered free of charge, upon your request. We can water plants, bring in your mail, take out the trash, turn off lights and open shades in the morning, and close your drapes and turn on your lights at night. As a result, your house will appear occupied preventing the "no one at home" look. We also have webcams available for rent so that you can monitor your pets from wherever you are! Service subject to availability.
Call us or fill out the contact form today and we will work together to schedule an appointment!
The Benefits of Hiring a Professional Pet Sitter
Increasingly greater numbers of pet owners prefer hiring professional pet sitters instead of the more traditional pet care options, such as boarding. It has become clear that in-home pet care by professionals is an optimal choice as it is a more personalized arrangement for care and it offers numerous advantages and benefits to both the owners and their pets.
Minimize stress on your pet as much as possible.
Just like people, animals are susceptible to the negative effects of anxiety and stress.
For some pets, the absence of their owner is a stressful event on its own. For most dogs, and especially cats, being outside of their normal environment and having any changes to their daily routine is uncomfortable and even scary.
Adding these two events together, which happens with any type of boarding, potentially creates a more serious problem. Sometimes all this stress can result in a physical illness, such as vomiting and diarrhea, often bloody, during and after the stay at a boarding facility. They can have decreased appetite and start losing weight.
When using in-house pet care services your pets stay in the comfort of a familiar environment while maintaining usual diet and exercise routines thus eliminating the additional stress and preventing its negative consequences.
Avoid the risk of infection.
Boarding your pets at any facility means they will be in close proximity to other animals, thus potentially exposed to infectious illnesses such as viral or bacterial, as well as intestinal parasites, fleas, and ticks.
Even though every reputable boarding facility will require all pets to be up-to-date on their vaccinations, it is not uncommon for a pet to contract a disease during the stay there. Veterinary hospitals can pose an even greater risk because animals with these diseases may be hospitalized there. With choosing to use pet sitting services exposure to illnesses is minimized.
No eligibility requirements.
Most pet boarding facilities have strict vaccination, health and even socialization/behavioral requirements for pets to be eligible for boarding with them. It's true that all core vaccines are very important for the protection of your pet's health and are strongly recommended by PSL Pet Sitters. However, they are not required for your pets to be serviced by us. The only exception is the rabies vaccine, which is legally required in the state of Florida for all dogs, cats, and ferrets 4 months of age or older.
Solution for older or chronically ill pets.
Geriatric pets with mobility issues due to arthritis or pets with health problems or other special needs may require extra care and attention. They may be more easily stressed too. If you have a special need or geriatric pet it may be difficult for you to find a boarding facility that has suitable accommodations necessary to care for your pet.
You may have a veterinary hospital in your area that is offering boarding services or even one that doesn't offer boarding but will make an exception for a pet with a chronic illness or particularly special needs. But this is not the best option if you want to minimize stress and discomfort for your pet as much as humanly possible and avoid risks of infectious diseases.
Port Saint Lucie pet sitters provide the extra services and care needed as part of our routine pet sitting services. We will make sure your pet gets his medication or special diet at the right time and dose. If your pet needs help getting around the house or getting outside or to the litter box, we can help with that, too.
Pet sitter vs. friends or relatives.
You don't have to ask your potentially inexperienced and unwilling friends, family or neighbors for a favor and feel like you are imposing on their kindness. Unlike some relatives or friends, our professional pet sitters won't forget to walk or feed your pets on schedule and will provide higher quality care overall.
Our Treasure Coast pet sitter can also serve as a house sitter while you are away. Having someone come to your house will make it look occupied deterring any potential intruders. Additionally, they can bring in the mail, water the lawn and house plants, take out trash and perform other small household tasks as needed.
Have an added peace of mind.
When leaving your pets with an insured and experienced professional sitter you will know they are the number one priority and are receiving the care and attention they deserve. You will get increased communication in the form of text or email updates and your house will be looked after. All this will contribute to your peace of mind leaving you free to relax and enjoy your vacation or focus on your work without any unnecessary stress.
If you are going to be traveling and are looking for high-quality, insured pet sitting services in Port St Lucie, Fl or the Treasure Coast area, contact us at PSL Pet SItters today for a consultation!